Skin Care/Facial Course in Miami
Skin Care Diploma – Your Path to Professional Skin Care
After completing your training, you will not just become a knowledgeable esthetician. You will be equipped to educate others or even start your own salon.
At Prestige Beauty Academy, we offer courses for beginners and a special esthetician program for skill enhancement. Our advanced skin care course is conducted by highly qualified instructors, featuring practical components and theoretical modules. We provide the skills required to work as an expert in makeup and skin care, and even establish your own salon.
| Course | Application | Books & Kit | TOTAL |
| --- | --- | --- | --- |
| Skin Care/Facial | $100 | $500 | $3,500 |
Become an Esthetician in Miami
Facial Specialist & Scin Care Course
260 hours (2,5 month)
Dedree
Florida Licensed Facial Specialist (Esthetician)
Morning Class
10:00 AM – 02:00 PM
Evening Class
05:00 PM – 09:00 PM
Prestige Beauty Academy annually updates the program to incorporate new methods and practices. We prepare our students to begin working and establish their own teams after finishing the course.
Many skincare estheticians choose our training to enhance their qualifications because we offer:
Modern curriculum and state-of-the-art equipment.
Accredited instructors.
A perfect blend of theory and practical training.
Real-world practice with our partners.
«I had been searching for a school to receive training and licensing in skin care facial treatments while also studying English. I came to this school and discovered that they offered English classes as well. Later on, I found out that many of my acquaintances had studied both cosmetology and English at this school. I also obtained a license to work here»
Basic Course – Skin Care Facial
Perfect for beginners, this course is ideal for those looking to master the basics. You will delve into the art of facial care with a focus on skin analysis and the application of cosmetic products. The schedule is tailored to your needs, and upon completion of the course, you will receive a license.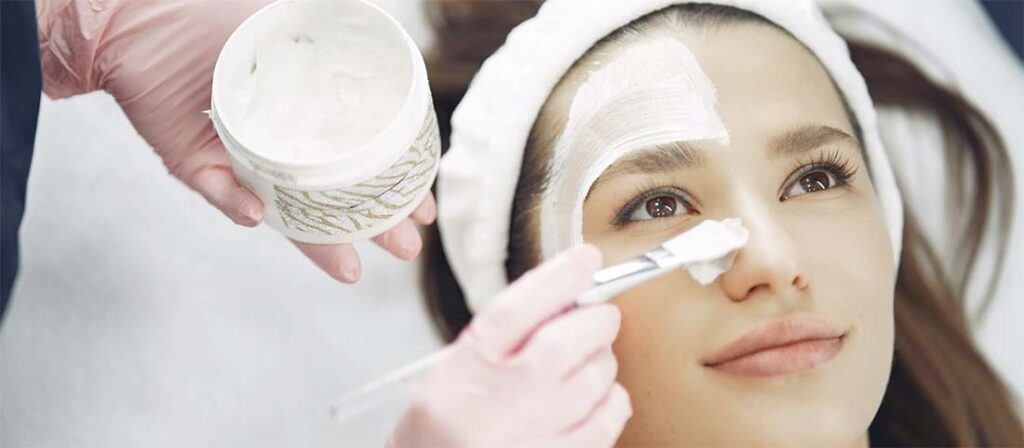 Basic esthetician program overview
The basic course includes 220 hours of theory and 40 hours of practical experience:
Medical Aesthetics Certification Program
Advanced education
Enhance your skills in advanced technologies. Our esthetician classes are open to both beginners and experienced professionals.
Program cost:
| | | |
| --- | --- | --- |
| Microneedling | $350 | 5-6 hours |
| Dermaplaning | $400 | 5-6 hours |
| Microdermabration | $350 | 5-6 hours |
| Chemical Peels | $400 | 5-6 hours |
| Oxygen Facial | $350 | 4-5 hours |
Advanced Skin Care Courses
Available to students who have completed the basic course and facial specialist license.
Designed for experienced estheticians, this program helps expand your knowledge of advanced techniques, skincare formulations, and specialized procedures. It's perfect for those looking to open their own salon and build a team of experts.
Program cost:
Hydrofacial

$750

5-6 hours

Microneedling PRP Face + Scalp

$900

5-6 hours

Advanced Face Massage Technique

$900

2 days

Skin care products. Chemistry. Ingredients. Selection.

$750

5-6 hours

RF skin tightening. Face (Venus)

$750

5-6 hours​

RF body (Venus Bliss)

$750

5-6 hours​

Veloshape

$750

5-6 hours​

LPG+ Endermolift. Face and Body

$750

5-6 hours​

Endosphere

$750

5-6 hours​

Emsculpt treatment

$750

5-6 hours​
Additional bonus for the school students: TRAINING WITH SOME COMPANIES REPRESENTATIVES.
Why choose our esthetician courses?
Start a New Career in the World of Skincare
Our courses are designed with your needs in mind and will help you become a skincare specialist in various fields:
Become a licensed facial specialist today!
Why should you join our Advanced Skincare Training Program?
Prestige Beauty Academy is a reputable school in Miami, led by highly skilled cosmetologists who have crafted a comprehensive curriculum. You will receive practical training in all aspects of skincare, makeup, and facial procedures. We guarantee support in job placement for successful students.
Does the school provide a certificate upon completion?
Yes, we will provide a certificate and an official license.
What qualifications do the instructors hold?
Our instructors have years of experience in the beauty and spa industry, both in practice and management.
Watch The Videos Below To Learn More About Our Courses
Speak to one of our representatives today